"We can complete all Certificate Attestation, Apostille Procedures from anywhere in the world without Your Presence"
E-mail: info@certificate-attestation.in
Hotline: +91 9555555365

About us
Authentication, Embassy Legalization and Apostille
"We can complete all Certificate Attestation Procedures from anywhere in the world without Your Presence"
The Genius Group of companies is a business group headquartered in the U.A.E. The Genius Group under its brand Genius has diversified interests in advertising, apostille and certificate attestation services, business consulting, corporate media solutions, air cargo, education consulting, publishing and world wide gift services. The group has its offices all over the U.A.E, Qatar, Oman, U.S, U.K and in India (Delhi, Mumbai, Chennai, Bangalore, Cochin, Calicut and Kottayam).

We are Specialized in Certificate attestation from various Government Departments. For Job, Family Visa in a foreign countries, now a days its very important to attest the relevant certificates are to be attested. Where ever you are., its not a problem we have our experienced service team all over the world. We will manage to arrange for you certificate attestation procedures from very starting to the end of procedures. We have Live Help facility to give you the online support and after giving the certificate to us for the process we will continuously give you the up to date information about your certificate attestation procedures. The reach in all over GCC, INDIA, Europe is facilitating our speed and safe process of your documents. Any time the document status can be tracked through our tracking facility. Still we are researching on how to give you the most perfect and timely service to you. Our corporate customers are the great evidence about our services in the various stages of the document legalization. When you choose Genius, you choose pece of mind.

The Genius Group was established by its charismatic M.D. Mr Shahid Cholayil in the year 2003. Under the determined and able aegis of Mr.Shahid, the Genius Group has already established its presence across the Middle East, India, U.K and U.S.A. The motto of the Genius Group is 'Together to greater heights' and the staff and M.D of the group of companies have every right in taking pride in the fact that every day of the past six years they have lived and proved their motto, they set out for, to be true to the last alphabet.That is why today you will see the Genius signature in almost all walks of corporate life in the Middle East. Every company in the Genius fold has recorded stupendous business even in these trying times of the global financial tsunami because in the words of Mr. Shahid "everyday is an opprtunity."
Visit you nearest Genius office to learn of the difference that is Genius.


Beware of fake attestations
Beware..!
Fake Attestation..!
Avoid Life Ban Abroad even before boarding your flight!!
Attestation or Authentication Procedures are very complicated. Due to these complications, Travel Agencies, Sub Agents and Agents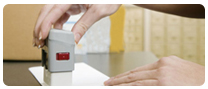 State Wise Certificate Attestation