"We can complete all Certificate Attestation, Apostille Procedures from anywhere in the world without Your Presence"
E-mail: info@certificate-attestation.in
Hotline: +91 9555555365

Apostille Authentication
A group of countries signed a treaty for simplifying the hurdles related to legalization. The treaty which gave birth to this common legalization is known as Hague convention of October 1961. Abolished the confused procedures related to legalization for foreign public documents. This is commonly known as Apostille Convention. The adoption of this procedures made a universal legalization procedure which is applicable to all the members of Hague convention. The members of Apostille nations include United States of America, United Kingdom, Australia, India, Ireland, Israel, Japan, New Zealand etc…Since the presence of big powers in the list made this legalization more vital and gave the legalization industry a universal face.
The Apostille procedure includes Home Department Authentication from concerned state and the Apostille authentication from Ministry of External Affairs. All the documents should be first authenticated by the designated agencies in the state from where the document has been issued. In case of these documents home department authentication is mandatory from where should first be attested. Document attested by these authorities then need to be presented to MEA for issue of Apostille Stamp.
Apostille any document for official use is a very time consuming and confusing process and even can become a waste of money and your bright future unless it is done properly. It is very important that you trust your document only to experienced professional we can do end to end legalization. We the Genius Group, the one and only ISO certified attestation firm in the world offer you the best service beyond your expectations.
Visit you nearest Genius office to learn of the difference that is Genius.


Beware of fake attestations
Beware..!
Fake Attestation..!
Avoid Life Ban Abroad even before boarding your flight!!
Attestation or Authentication Procedures are very complicated. Due to these complications, Travel Agencies, Sub Agents and Agents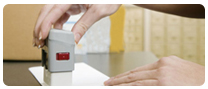 State Wise Certificate Attestation